Der Checkout-Prozess ist für viele Shop-Betreiber besonders sensibel. Immerhin ist die Abbruchrate bei Bestellvorängen besonders hoch. Wie kann man Bestellabbrüche effektiv verhindern? Und wie lässt sich der Checkout-Prozess optimieren. Eine aktuelle Infografik zeigt die Do's und Dont's auf.
Grundsätzlich sollte der Checkout-Prozess so übersichtlich und kurz wie möglich gestaltet sein. Kunden schätzen es sehr, wenn sie jederzeit wissen, in welcher Phase des Bestellprozess sie sich befinden – eine Status-Anzeige ist daher sehr zu begrüßen.
Checkout-Prozess profitiert von sturkturierten Informationen
Eine Menge Abbrüche resultieren daraus, dass Kunden zu spät über wichtige Aspekte ihrer Bestellung informiert werden. Ein gutes Beispiel hierfür ist ein zu später Hinweis auf Zusatzkosten für Verpackung und Versand. Auch Garantie- und Gewährleistungsbestimmungen sollten früh und deutlich kommuniziert werden.
Zwangsregistrierungen sind Gift für den Checkout-Prozess
Die Infografik Shopping Cart Abandonment and Tips To Avoid It von monetate widmet sich unter anderem dem wichtigen Thema "Registrierung". Zwingt man Kunden, sich zu registrieren, um bestellen zu können, resultiert das häufig in einem Abbruch des Bestellvorgangs. Die Möglichkeit als Gast zu bestellen oder gleich ein One-Stop-Checkout, den man auf einer anderen Seite hinterlegt hat und in unterschiedlichen Shops verwenden kann, nehmen dieser Hürde viel Schrecken.
Mit einem Klick auf den unten stehenden Ausschnitt öffnet sich die vollständige Infografik.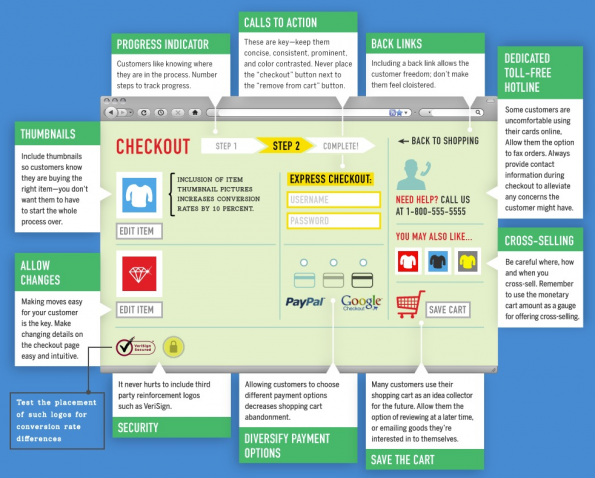 So sieht der optimale Checkout-Prozess im Online-Shop aus. Bild für vollständige Infografik anklicken.
Weiterführende Links
via t3n News http://t3n.de/news/tipps-optimalen-checkout-prozess-443154/?utm_source=feedburner+t3n+News+12.000er&utm_medium=feed&utm_campaign=Feed%3A+aktuell%2Ffeeds%2Frss+%28t3n+News%29